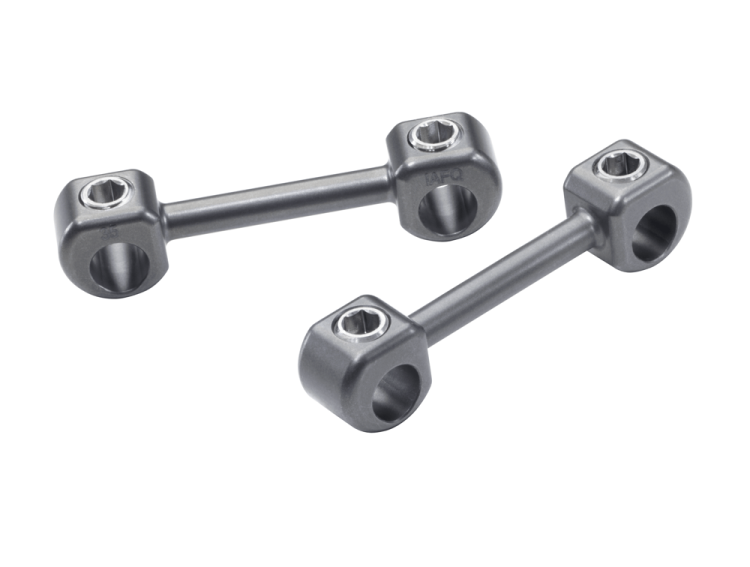 Conception
Jazz™ Frame rigid connectors cobined with Jazz™ solution are used to create an extremely rigid frame which facilities and scoliosis correction. This translation is impossible to obtain with screws.
This technique, named the Frame Technique, consists in assembling Jazz™ Frame T-Bar connectors positioned at the top and at the apex and two similar bended rods. This assembled frame is used to obtain a correction of the spine in the sagittal plan. This very rigid frame is used to tension the spine and makes it approach the frame and, at the contrary, prevents the frame itself to approach the spine.
The rigidity of the frame and the tensioned sublaminar Jazz™  connected to it, respect the sagittal curve and the frontal alignment determined by the physician. This construct realizes, automatically, most of or all the derotation given to the spine. For more information, refer to the Jazz™ Surgical technique.
This technique has been the subject of many national and international publications with remarkable clinical results.
This technique allows significant reductions of:
operating times
co-morbidities in particular regarding the blood loss
the total number of implants required
X-ray doses administered to patients, due to the use of Jazz™, reducing the number of pedicle screws
In terms of technical characteristics of the implant, note:
fixed closed transverse connectors can be used with 5.5 or 6.0 mm in diameter rods and support the very high mechanical stresses applied to the construct
Simple and rapid implementation without learning curve
Sterile Implant
Only use of the screwdriver 3.5 mm already in instrumentation. No specific instrument
French design and manufacturing, in compliance with Directive 93/42 / EC
Materials
| | Connector & Screw | |
| --- | --- | --- |
| Materials |  Titanium alloy Ti6Al4V | |
| Standards |   ISO 5832-3 | |
Range
Connector : Unique connector for 5.5 et 6.0mm diameters rods
JAZZTM Frame – T-Barre

For Rod Diameters

(mm)

Length

5.5/6.0

25

30

6.35

35
Rod Type

Straight Ti6Al4V
Straight Cobalt-Chrome alloy

Diameter (mm)

5.5

5.5

6.0

Length

500

500

600

600