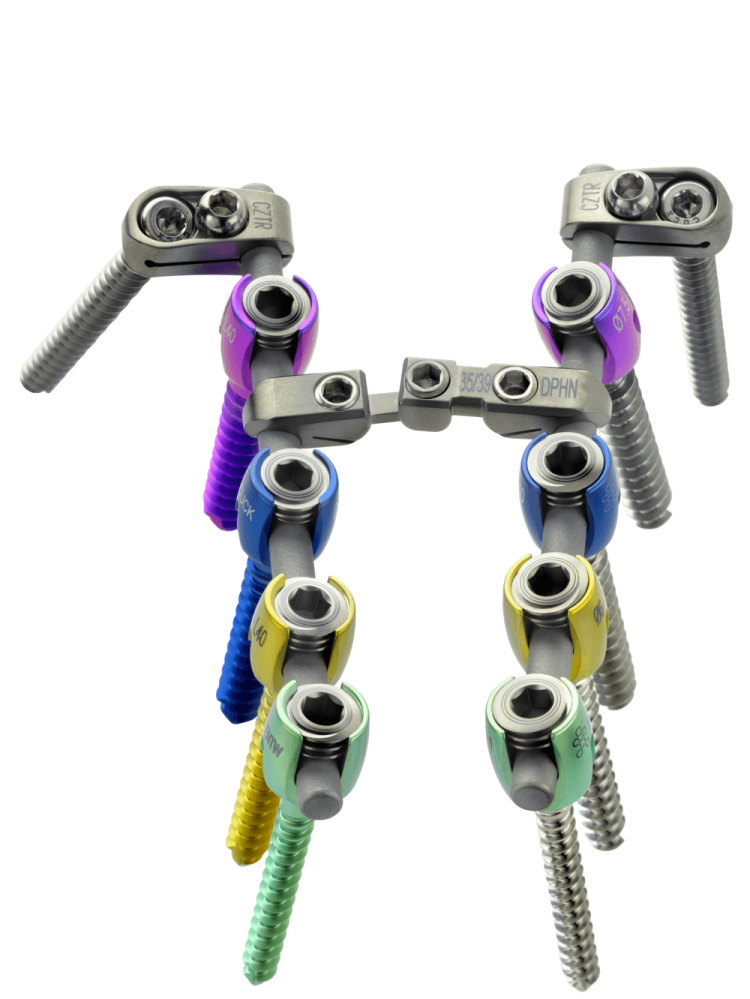 Conception
Individually sterile packed implants.
Polyaxial and monoaxial self-tapping screws, with cylindrical corticocancellous / compressive thread type and cylindrical core screw design.
Secure universal one step locking blocker.
Range of pedicular, laminar and thoracic hooks.
Low-profile design which fit with 6.0 mm or 5.5 mm diameter rods.
Extensive range :  pre-bents and straights alloy rods, in titanium alloy or cobalt-chrome.
Easy to use and compact transverse connectors.
One step locking » sub S1 connectors with anti-back out system.
Simple, effective and easy to use instrumentation.
Materials
| |  Screws – hooks  – Rod to Rod Connectors ands rods – sub S1  | Implanet Spine System Cobalt-Chrome rods |
| --- | --- | --- |
| Materials |  Titanium Ti6Al4V | Cobalt Chrome |
| Standards | ISO 5832-3 |  ISO 5832-12 |
Range
JAZZ Screw range (compatible with rods Dia.5.5 or Dia.6.0)
| Lenght | Dia. 5 mm | Dia. 5.5 mm | Dia. 6 mm | Dia. 6.5 mm |  Dia. 7 mm | Dia. 7.5 mm | Dia. 8 mm |
| --- | --- | --- | --- | --- | --- | --- | --- |
| 35 mm | P/M |  P |  P/M | P | P/M | P | M |
| 40 mm | P/M | P | P/M | P | P/M | P | M |
| 45 mm | P/M | P |  P/M | P | P/M | P | M |
| 50 mm | P/M | P | P/M | P | P/M | P | M |
| 55 mm | P/M | P | P/M | P | P/M | P | M |
| 60 mm | P/M | P | P/M | P | P/M | P | M |
P : Polyaxial Screw
M : Monoaxial Screw
Road type
Pre-bent Ti6Al4V
Straight Ti6Al4V
Diameter
Dia 5.5 mm Dia. 6mm
Dia. 5.5 mm Dia. 6mm
Lenght
30 to 100 mm increment of 10 mm
110/120/160/200/300/400 mm
Curvature
30 cm
ISS Range
| Screw Length / Diameter |  Dia. 5 mm | Dia.  5.5 mm | Dia. 6 mm | Dia. 6.5 mm |  Dia.   7mm |  Dia. 7.5  mm | Dia.  8 mm |
| --- | --- | --- | --- | --- | --- | --- | --- |
| 35mm | P/M | P | P/M | P | P/M | P |  M |
| 40mm | P/M | P | P/M | P | P/M | P | M |
| 45mm | P/M | P | P/M | P | P/M | P | M |
| 50mm | P/M | P | P/M | P | P/M | P | M |
| 55mm | P/M | P | P/M | P | P/M | P | M |
| 60mm | P/M | P | P/M | P | P/M | P | M |
P : Polyaxial Screw
M : Monoaxial Screw
| Pedicular Hooks | Laminar Hooks | Thoracic Hooks |
| --- | --- | --- |
| Short Blade | Laminar | Straight |
| Long Blade |  Offset Right / Offset Left |  Angled Right / Angled Left |
Adjustable Cross Connector for Dia. 5.5 rods only (mm)
L36/39
L38/43
L42/47
L46/57
L56/69
L68/81
Sub S1 Connectors for Dia. 5.5 mm and 6 mm rods:
| Sub S1 Screw Diameter |  Length (mm) |
| --- | --- |
| 6 mm | 50 |
| 6 mm | 55 |
| 6 mm | 60 |
| 6 mm | 65 |
| 6 mm | 70 |
| 6 mm | 80 |
Rod-to-Rod Connector for 5.5 mm or 6.0 mm diameter rods:
| Rod type | Pre-bent Ti6Al4V | Straight Ti6Al4v | Straight Chrome Cobalt |
| --- | --- | --- | --- |
| Diameter |  Dia. 5.5 mm/Dia. 6.0 mm |  Dia. 5.5 mm/Dia. 6.0 mm | Dia. 5.5 mm/Dia. 6.0 mm |
| Length | 30 to 100 mm increments of 10 mm | 30 to 120 mm increment of 10 mm and 160/200/300/400/500/600 mm | 30 to 120 mm increments of 10 mm and 160/200/300/400/500/600 mm |
| Curvature | 30 cm | | |