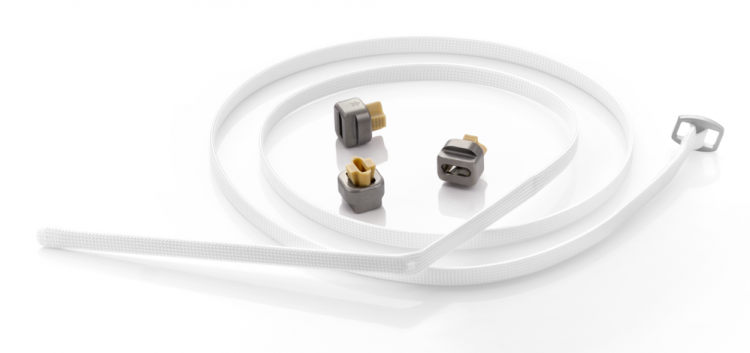 Conception
The Jazz™ Lock system is based on the concept of spinal disorders treatment with band (braid) technology, expertise area of Implanet.
This expertise leads us to propose a new single implant for cerclage of the cervical levels, independently of any posterior fixation system, complementing the existing Jazz™ range.
With this unique new strapping system on the market, Implanet offers a credible and efficient alternative, addressing the problems encountered with the metal cable systems.
• Unique concept on the market
• French design and manufacturing, complying with Directive 93/42/EC
• Sterile implant
• Connector for independent locking band for later treatment of cervical levels
• Bone/implant interface: braided belt fits the anatomical structures
• Simple and rapid implementation
• Open and flat polyester Band coming from the Jazz™ Platform: Proven concept
• No metal in the canal = no artifact
• Single tensioning instrument for reduction and correction of the spine based on Jazz™ Platform
• Optimal instrumentation only made of 4 instruments, with 3 common to the Jazz™ Platform
• Limited learning curve due to the simplicity of the implant and instrumentation solution
Materials
Connector
Locking Mechanism
Braid
Buckle and metal strip
Materials
 Titanium alloy Ti6Al4V
PEEK (PolyEtherEtherKetone Optima LT1)
Polyester
Stainless steel
Standards
  ISO 5832-3
ASTM F2077-03
ASTM F1717
Range
One unique implant, adaptable to any spine anatomies with a posterior approach.